TV interview/views of Dr. Pankaj Kumar on Former TV actor Sushant Singh Rajput's Suicide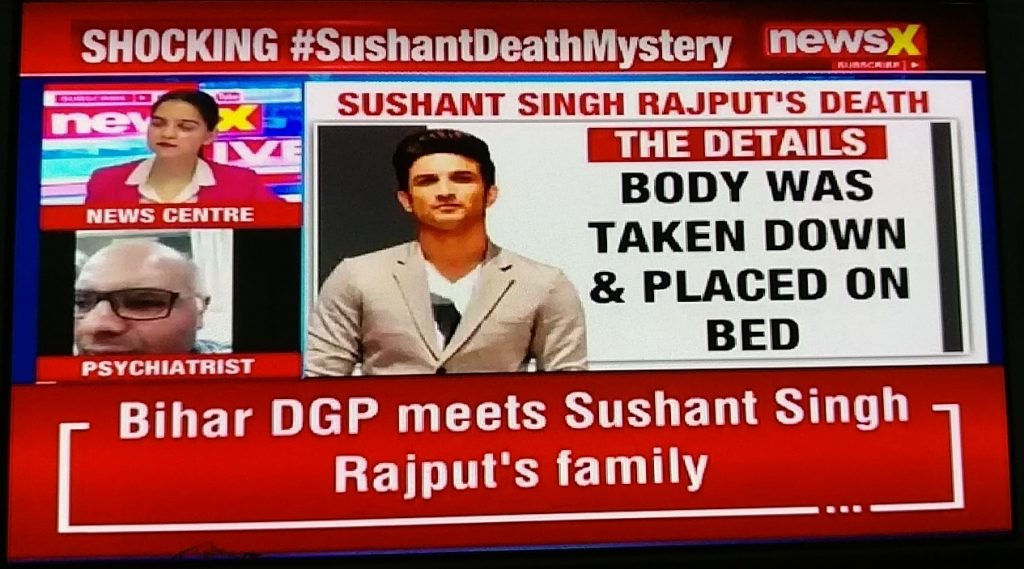 Former TV actor and popular Indian film star, Sushant Singh Rajput, who entertained cinema lovers all across with his innumerable performances sent shockwaves across the country with the news of his suicide. The 34-year-old actor reportedly ended his life by hanging himself at his Bandra residence, where he was living alone during the lockdown. The reason behind him taking this extreme step is not clearly known, however, early reports allege that he was suffering from depression for the past 6 months & on treatment for the same from a Psychiatrist.
​Why it is important to talk about mental health?
While we have come a long way with regards to openly talking about mental health, especially with celebrities opening up about their depression, struggles, it still remains a stigma among many. We live in a world where people still think that mental health is not a very serious matter. This incident is just another reminder that we need to break the silence and stigmas related to this health condition. Your mental health should be your priority but at the same time, you must be supportive of other people battling with a similar condition.
Signs to watch for-
While some show signs that can indicate their suicidal tendencies, there are many who may never say or do anything to indicate that they may end their life.
Talking about suicide, seeking access to the means such as guns, pills, or other objects that could be used in a suicide, self-loathing, and giving away prized possessions or making arrangements for family members are some potential indications.
An episode of depression, psychosis, or anxiety, a significant loss, such as the death of a partner or the loss of a job, loss of social support, a personal crisis or life stress, especially one that increases a sense of isolation can put an individual at a higher risk for suicide. The unrelenting pandemic has only added to it.
​How to help someone?
If you have recognized these symptoms in someone close to you and think that they might take any drastic step then first of all, just share the information about the same to their family and friends.
No matter what, just don't leave them alone. They need your support now, more than ever.
Listen to them without judging, arguing, or yelling at them. Apart from that ask them to seek professional (Psychiatric or Psychological) help.
What to do if you are feeling suicidal?
There are times when we all have doubts about our future and feel low, but remember this is not the end. You cannot stop trying and end your life. If you are having suicidal thoughts, talk about them with your family or friends. You should also seek professional Psychiatric or Psychological help for it.
Regards
Dr. Pankaj Kumar
Senior Consultant Psychiatrist, Psychotherapist & De-addiction Specialist